projekt:rudel:grovinventering:crap1
Namn: CRAP-1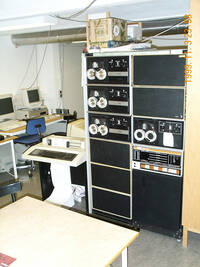 Modell: PDP-8/I
Introduktionsår: 1968
Tillverkare: Digital Equipment Corporation
Signifikans: CRAP-1 är Updates allra första dator. Det såldes endast 3698 st av denna modell. Vårt exemplar är välutrustad med fyra TU55 bandstationer, hårddisk DF32 och extra minne. Det finns ideer om att namnet är en akronym för "collected rust and pieces", "compiled rests and parts" eller något ditåt, hörda på 00-talet från äldre medlemmar.
Historia:
Sojge says: I remember carrying a pdp8 up the stairs from the computer club "Unga Forskare Pascal" in Stockholm, a couple of years later finding it again at Update. It might have been the 8/I – if that's the one getting the name CRAP8.
AA says: Sojge is correct; I believe Update bought the pdp-8/I from Pascal for 1 SEK.
Donator: Kontaktperson(er):
projekt/rudel/grovinventering/crap1.txt · Last modified: 2021/04/10 21:25 by pontus
---